HAPPY BIRTHDAY - MEGA CAKE!
MEGA CAKE is a large scale interactive sculpture being built for Burning Man 2019. It is a massive 4-tier wooden birthday cake that will serve as both a singular piece of art and a place to explore and discover art within.
MEGA NEWS! We assembled this colossal confection in July at Norfolk's Hermitage Museum and Gardens in conjunction with the "Conversations: Contemporary Asian Art" exhibition! We welcomed the Hampton Roads community to come and experience this work of art before it made its journey west.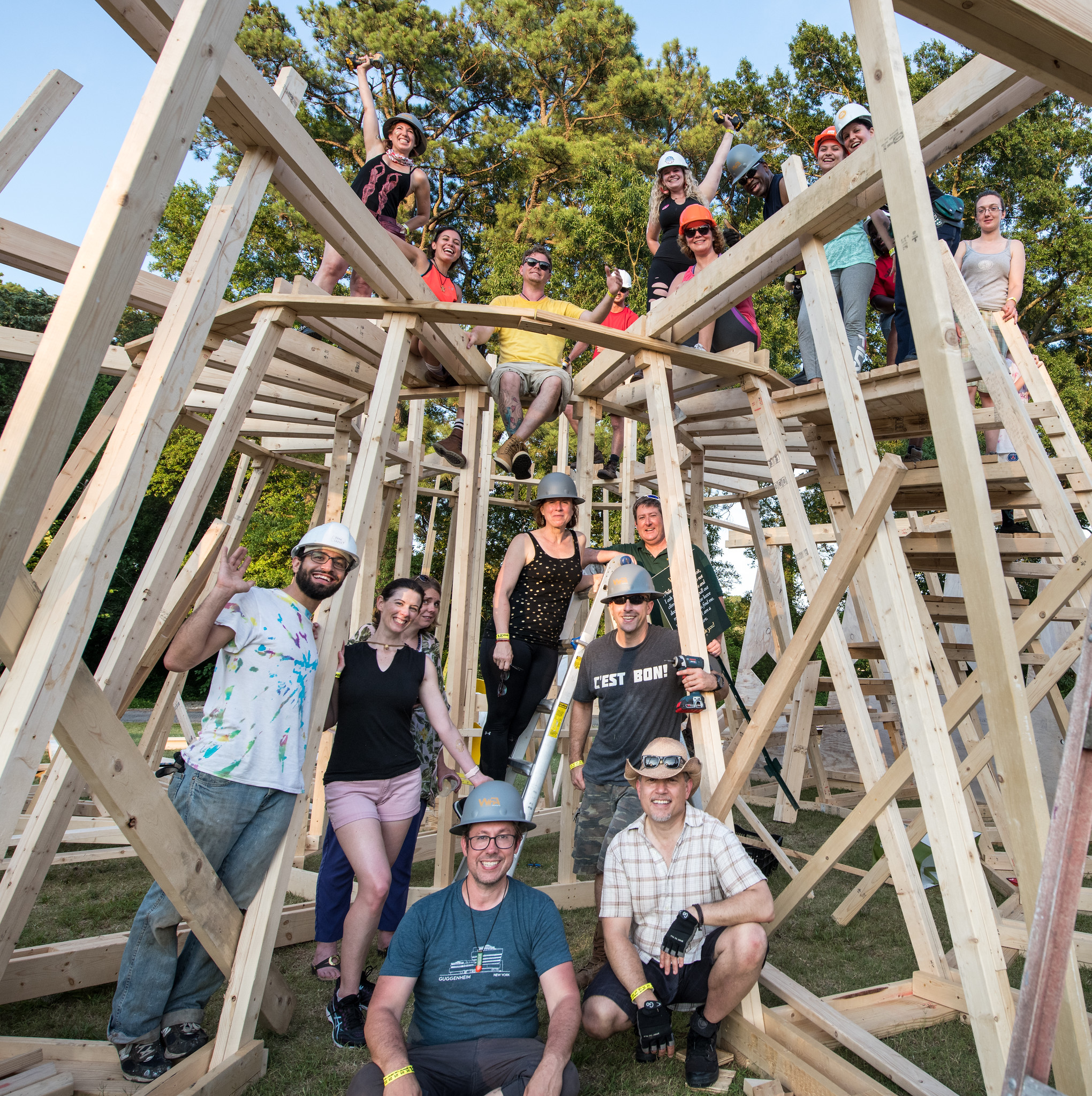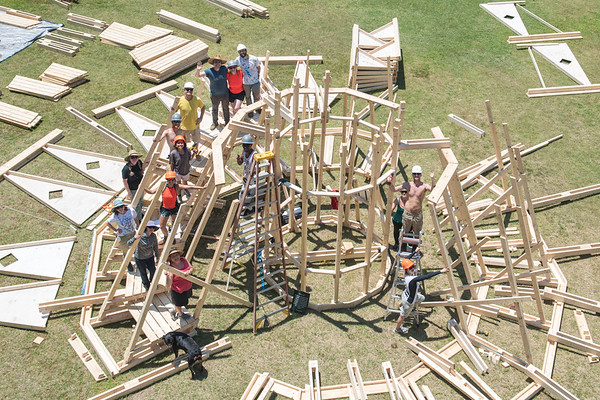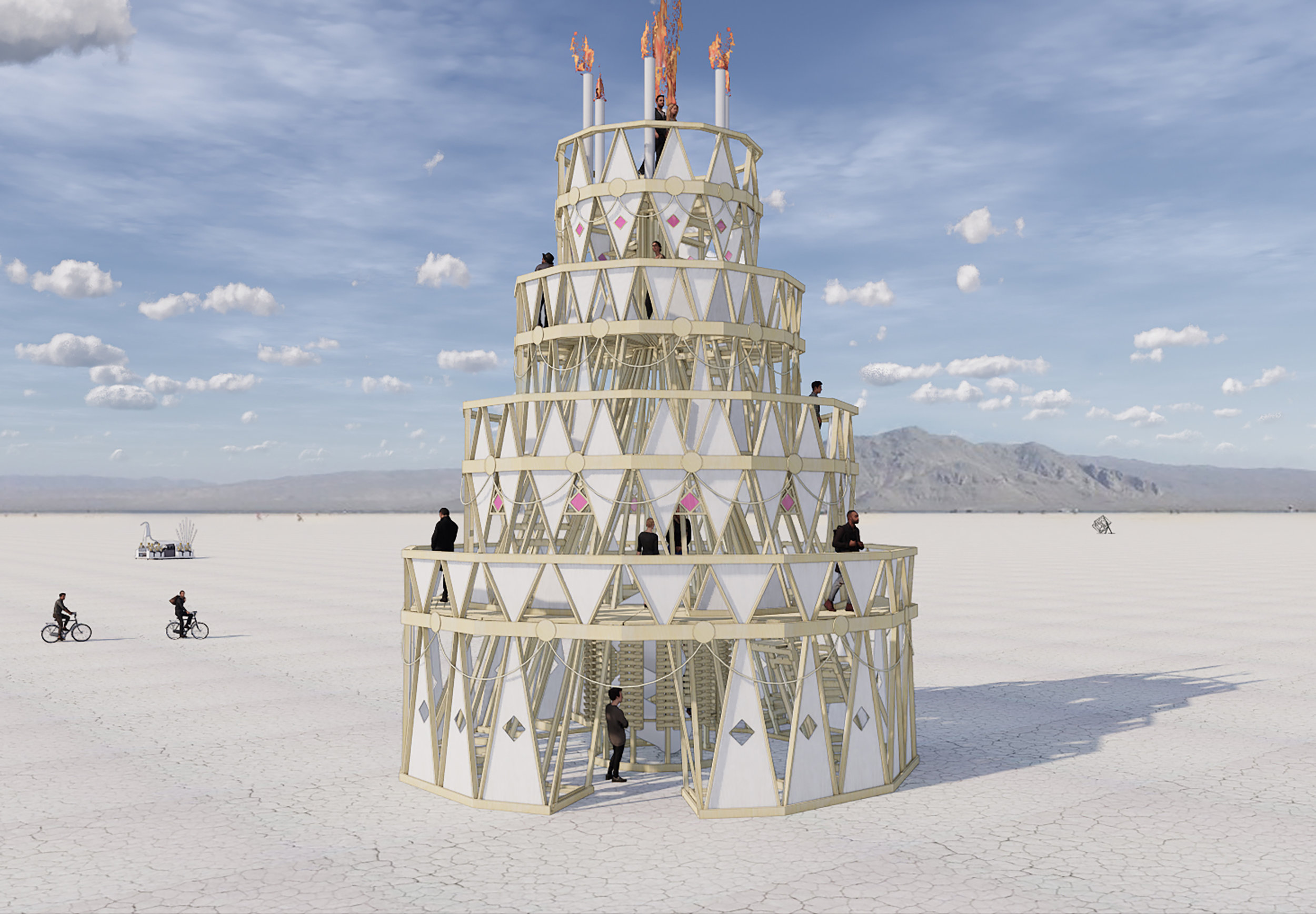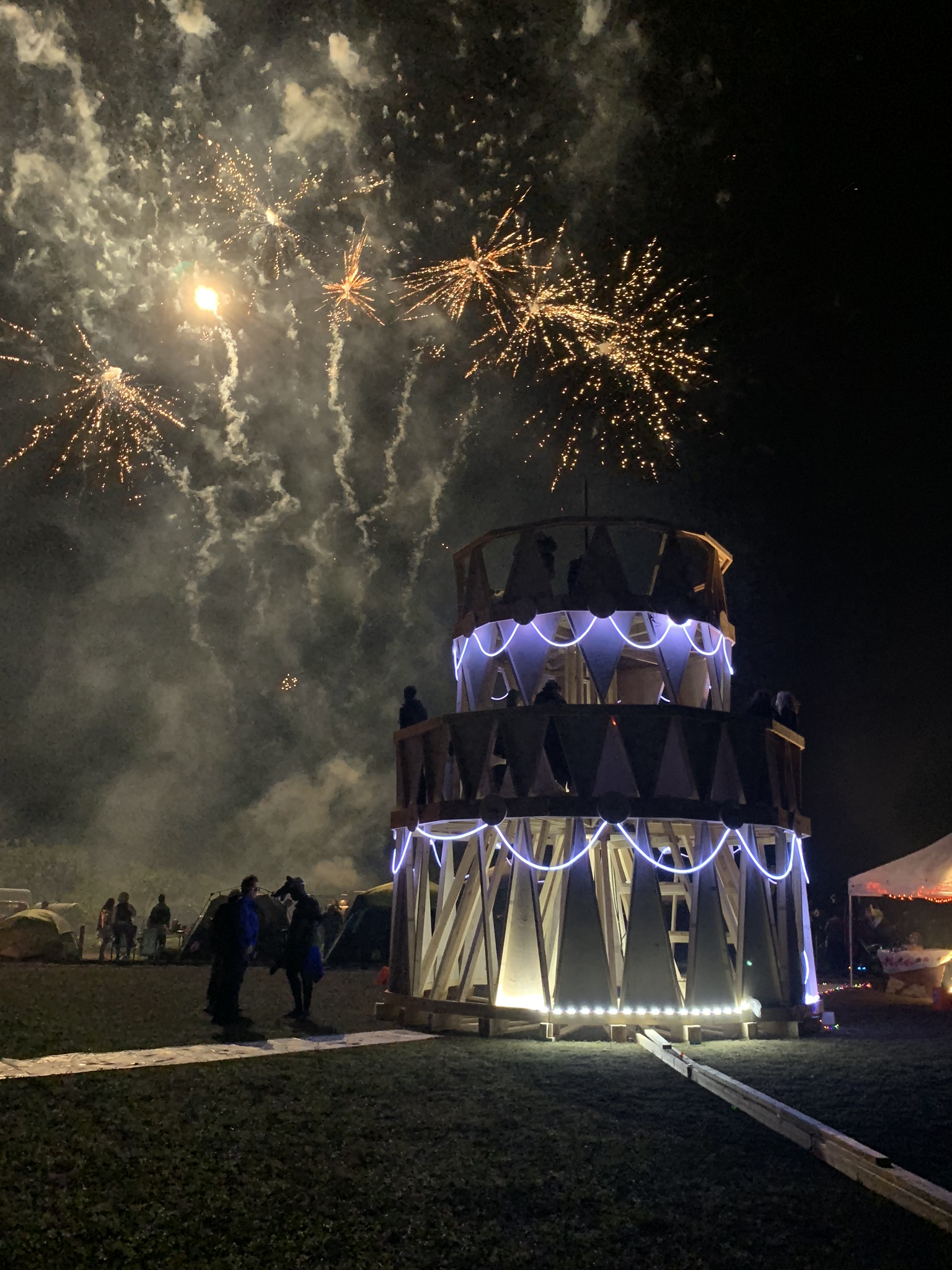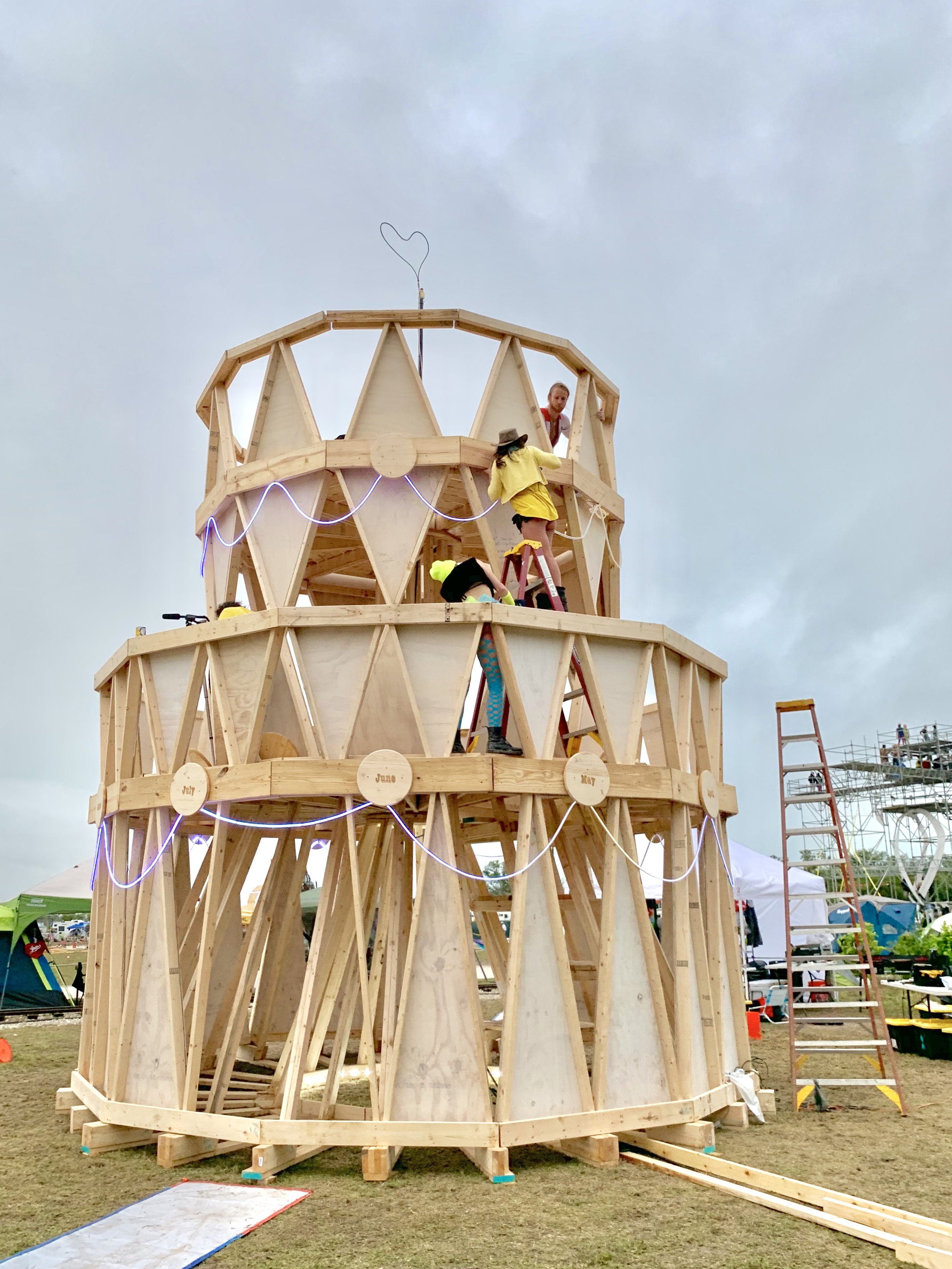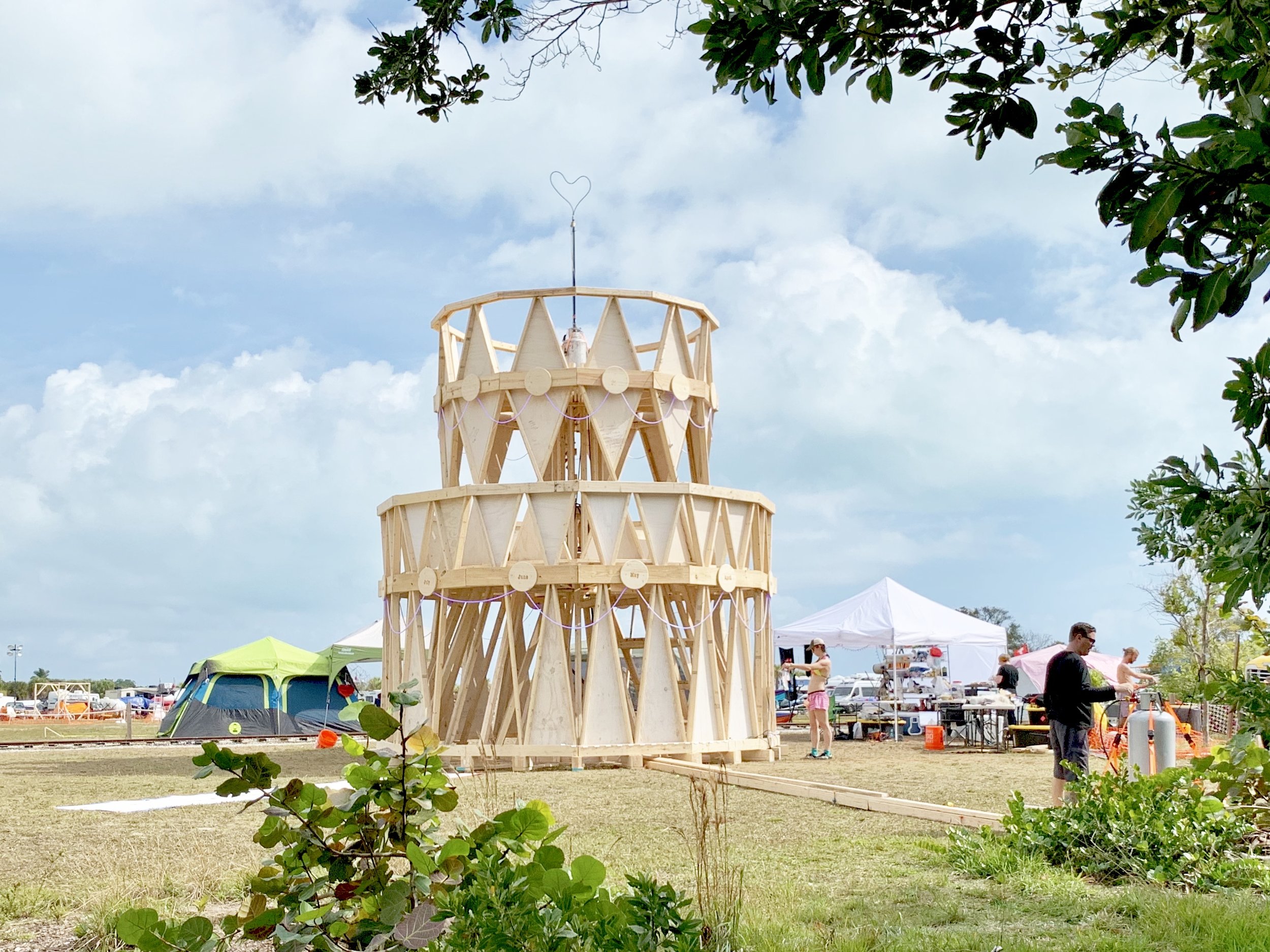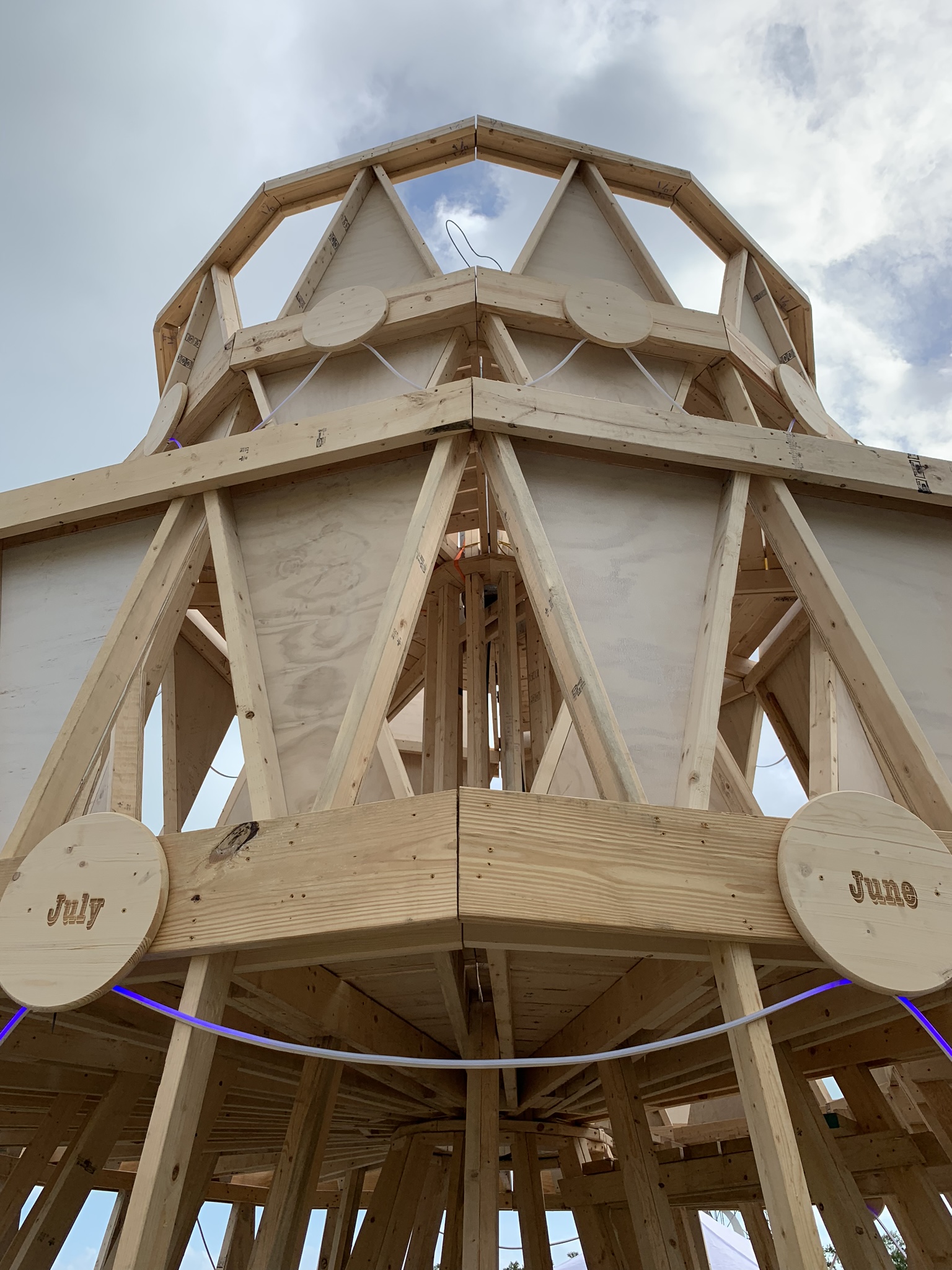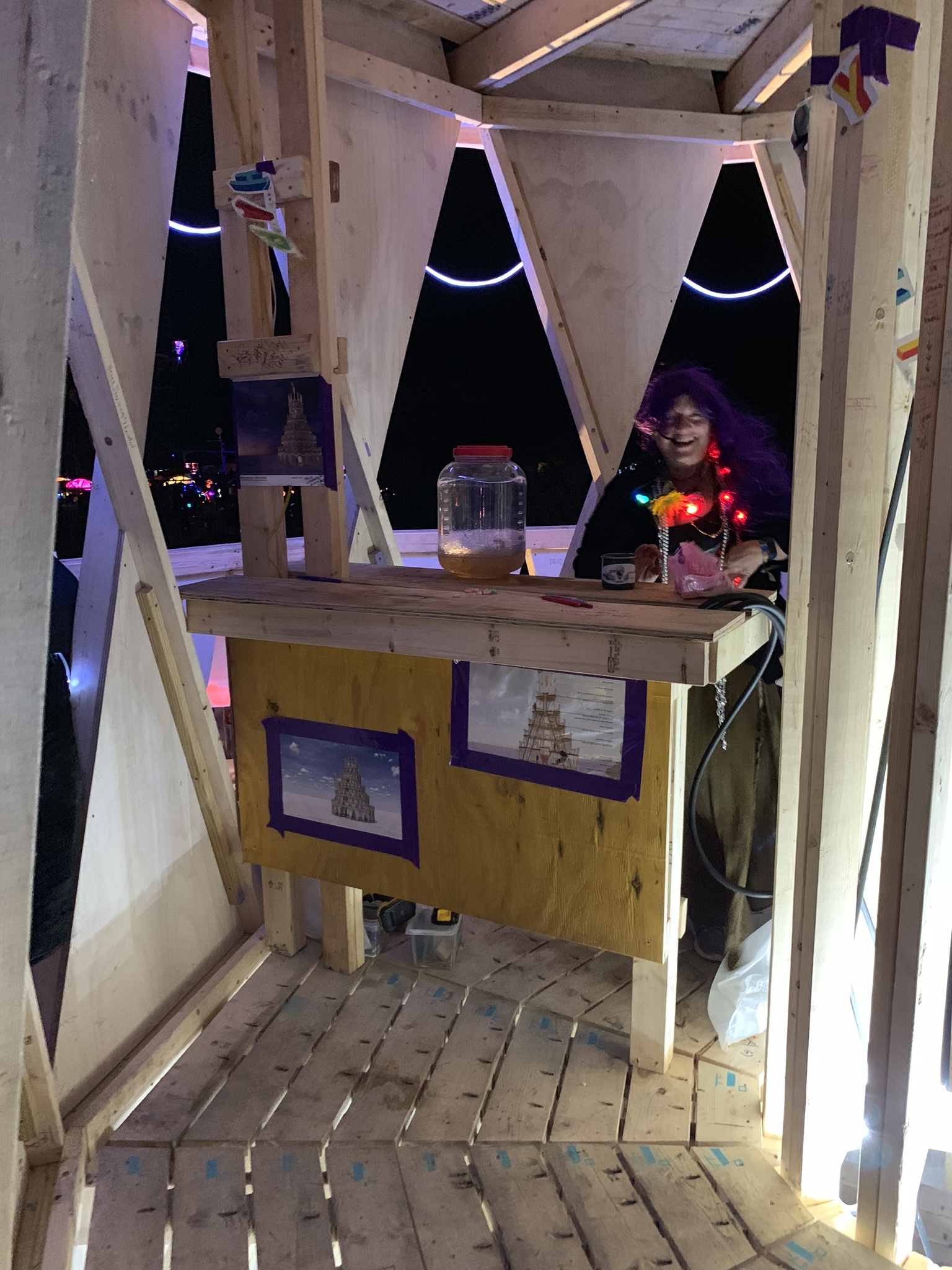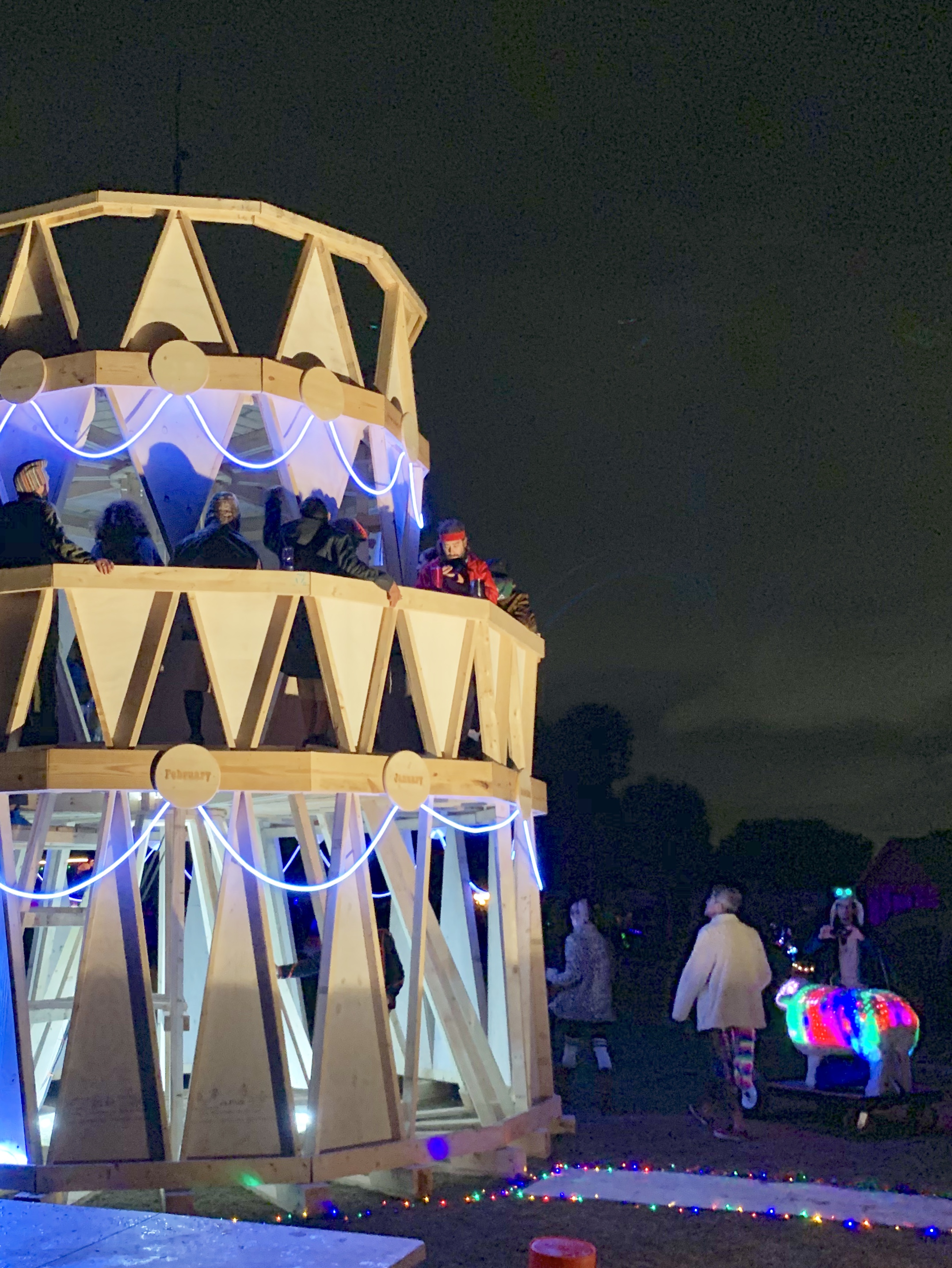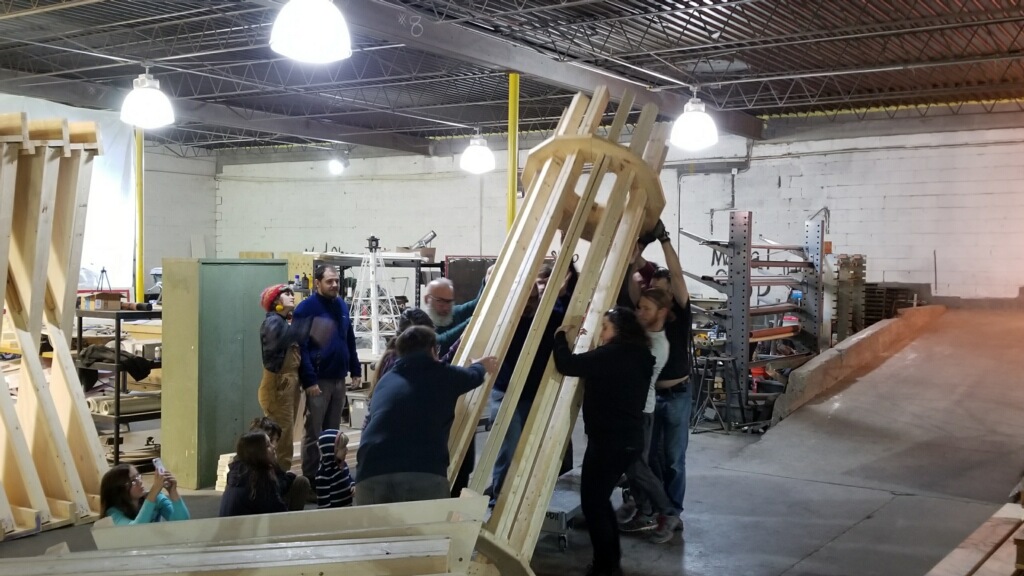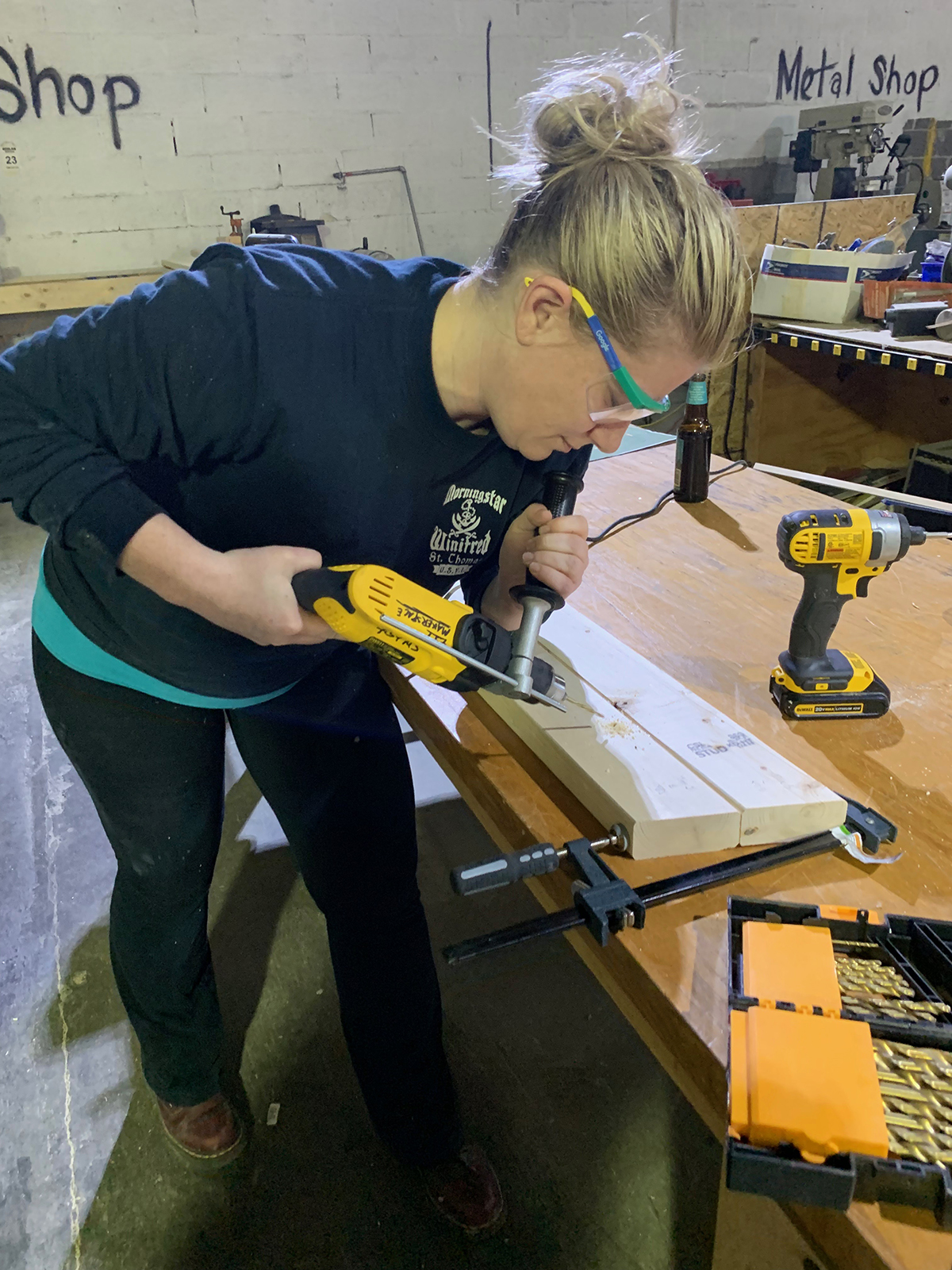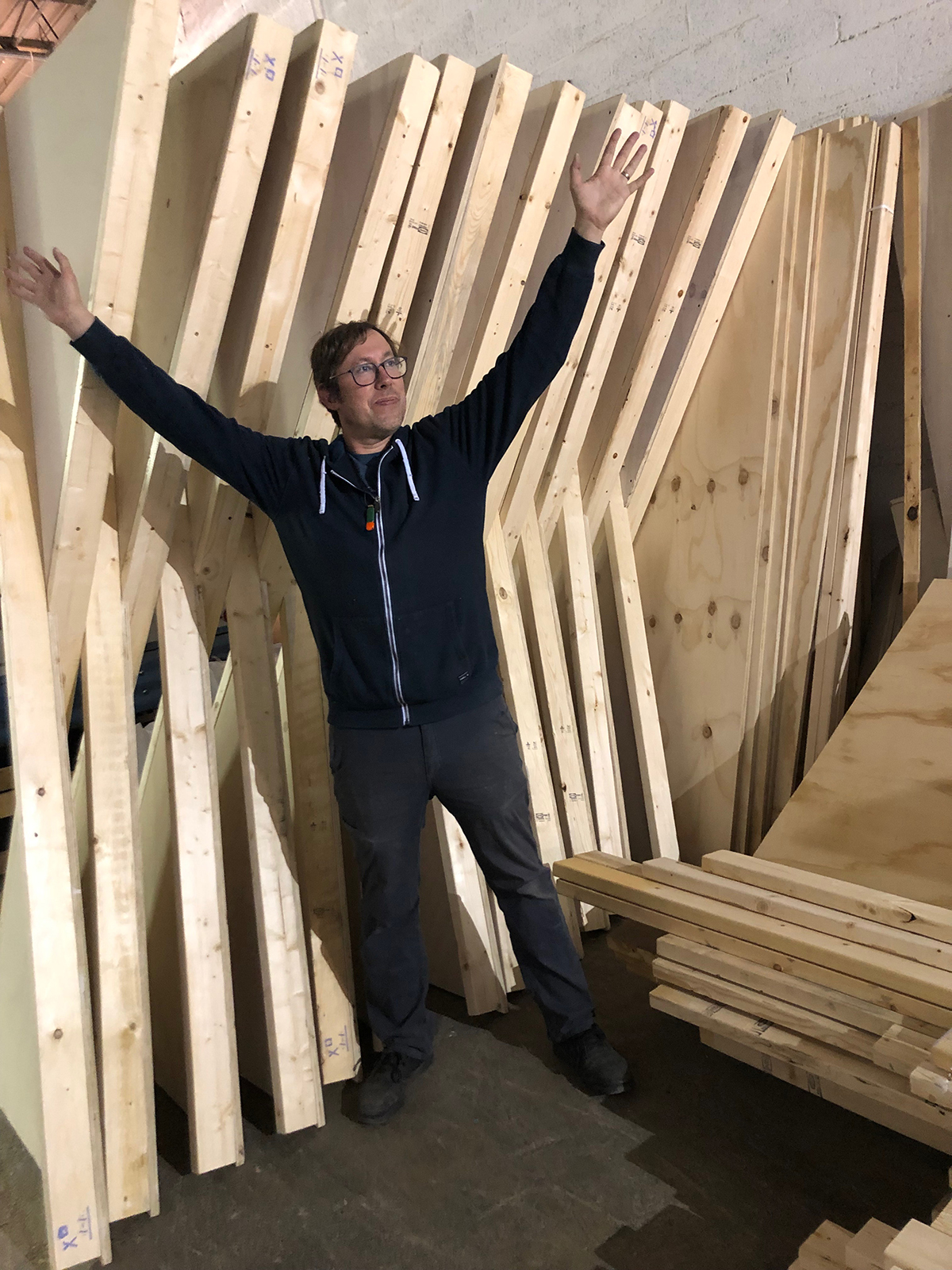 Architect Thom White of Norfolk's WPA has designed a 12-sided wooden structure resembling a 4-tiered birthday cake. Art glass embellishments representing the animals of the Chinese zodiac and the constellations of the western zodiac will catch the light of the sun and sparkle like sugar in the distance. Plywood panels line each faceted tier and have perforations which recall cake icing embellishments while letting wind pass through. Flexible LED light strips are draped along the top of each level, adding to the icing motif. A propane-fueled "poofer" on the top-most tier will provide flame effects that will fire off at least once per hour at night.
MEGA CAKE plays with scales of interactivity: on a city-wide scale, it stands as a cheerful beacon to birthdays. On a personal scale, one will be able to record birth dates on cards that will then become part of the piece, transforming it through participation. And, at each tier, visitors will encounter – and become part of – vignettes exploring birthdays over the course of one's life. At the end of the sequence, a slide provides a quick exit and serves as a playful symbol of one's birth.
Our mission has evolved since work began over a year ago. At first, the Cake was thought of primarily as a place to gather, play, and observe Burning Man's Black Rock City. Then, as the work progressed and construction began, we realized the piece is a singular work of art with vast potential for embedding meaning to be discovered as one explores it. The mission now is to facilitate a journey punctuated by distinct moments that people encounter as they go, much like the experiences along the arc of one's lifetime.
"Happy Birthday" is a universal phrase of optimism and validation, common in every language, and akin to "Welcome Home," "Thank You," and "I Love You." The phrase is a pleasant exchange between two people, creating a point of connection while acknowledging one's unique existence and the passing of time in one's life. The birthday cake is a symbol of celebration. Given to a person on their special day and then shared with friends, it provides a sense of recognition and acceptance within community. We hope to capture this spirit.
From afar, the cake evokes a sense of excitement and may bring back memories of past birthdays. Once inside, it provides a safe and inviting space to go on a journey of reflection about where we began, our growth, and what we'd like to accomplish in our lives.
Our intention is for this piece to celebrate all participants. It is a place of joy. Today is everyone's birthday. This week is everyone's birthday week; Happy Birthday to you! Happy Birthday to us!